documentation and quality management
No doubt: the flawless quality of all provided goods is essential for CLP GmbH. Thus, the company demands complete test reports for every product batch from its suppliers. These reports are thoroughly compared to the goods and the customer's specifications. After shipping the products, the reports are archived for at least five years. With this, the usual obligations for documentation are met. But is this enough?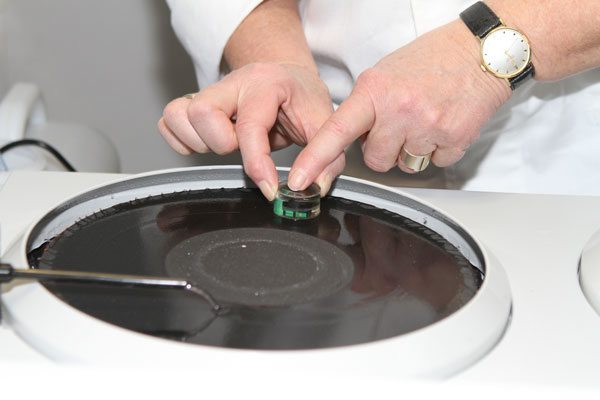 Handarbeit: Leiterplatte in Epoxidharz eingegossen wird geschliffen.
more flexibility and security through own testing
Manufacturing printed-circuit boards comes with a lot of possible surprises. Thus, it is reasonable to control some essential features of PCB or assemblies under own stewardship. Using external service for this is possible, but commercially unreasonable. So, investing in an own cross-section laboratory with corresponding microscope equipment was a logical choice. CLP GmbH chose the market leader, Struers GmbH, as partner.
toy or reasonable investment?
At first, the employees of CLP GmbH were sceptical. A new toy for the boss? How often might these machines be used? But less than three months after installation, a whole lot of cross-section analyses made all those doubts vanish. Some quite surprising results were proof, that the decision for this investment was the right one, leading to a significant improvement in qualitiy management.
generating benefit through cross-sections
By evaluating cross-sections and in cooperation with the PCB manufacturers, the quality management of drill and plating processes could be improved. 'Our customers are fond of these possibilities, and are frequently asking for our support, in order to improve assembly processes and contruction,' says Jutta Kemkes. managing director of CLP GmbH. 'The cross-section lab gave us the opportunity to vastly extend the support for our customers. And our suppliers now know that they are thoroughly monitored for following of our specifications and requirements. This enables on-par communication, leading to optimisation of quality management and saving time.'
As a show-stopper, CLP GmbH could help a customer solving his seemingly small problem with products made by a competitor, which lead to making him improve the cooperation with CLP GmbH and vastly increasing the business volume.
customers have already spotted the advantages
The additional possibilities and the follow-up advantages for quality mangement are so comprehensive, that neither CLP GmbH nor its customers want to miss the cross-section laboratory.